The Gujarati Samaj of Montreal, an esteemed organization that seeks to celebrate and preserve the vibrant Gujarati culture in Canada's spirited city of Montreal, invites you to join the upcoming Gujarati Samaj Cricket League 2023!
Honoring the Gujarati proverb, "જ્યાં જ્યાં વસે ગુજરાતી, ત્યાં ત્યાં સદાકાળ ગુજરાત!" (wherever Gujaratis reside, there forever lies Gujarat), we take pride in uniting our community through exciting events and cultural activities. This summer, the thrilling sport of cricket takes center stage.
We are hosting a Soft Tennis Ball Cricket Tournament on the 8th and 9th of July, 2023, which promises to be a unique blend of sportsmanship and camaraderie. This is not just a cricket tournament but a gathering of the community, an occasion for fun, unity, and celebration.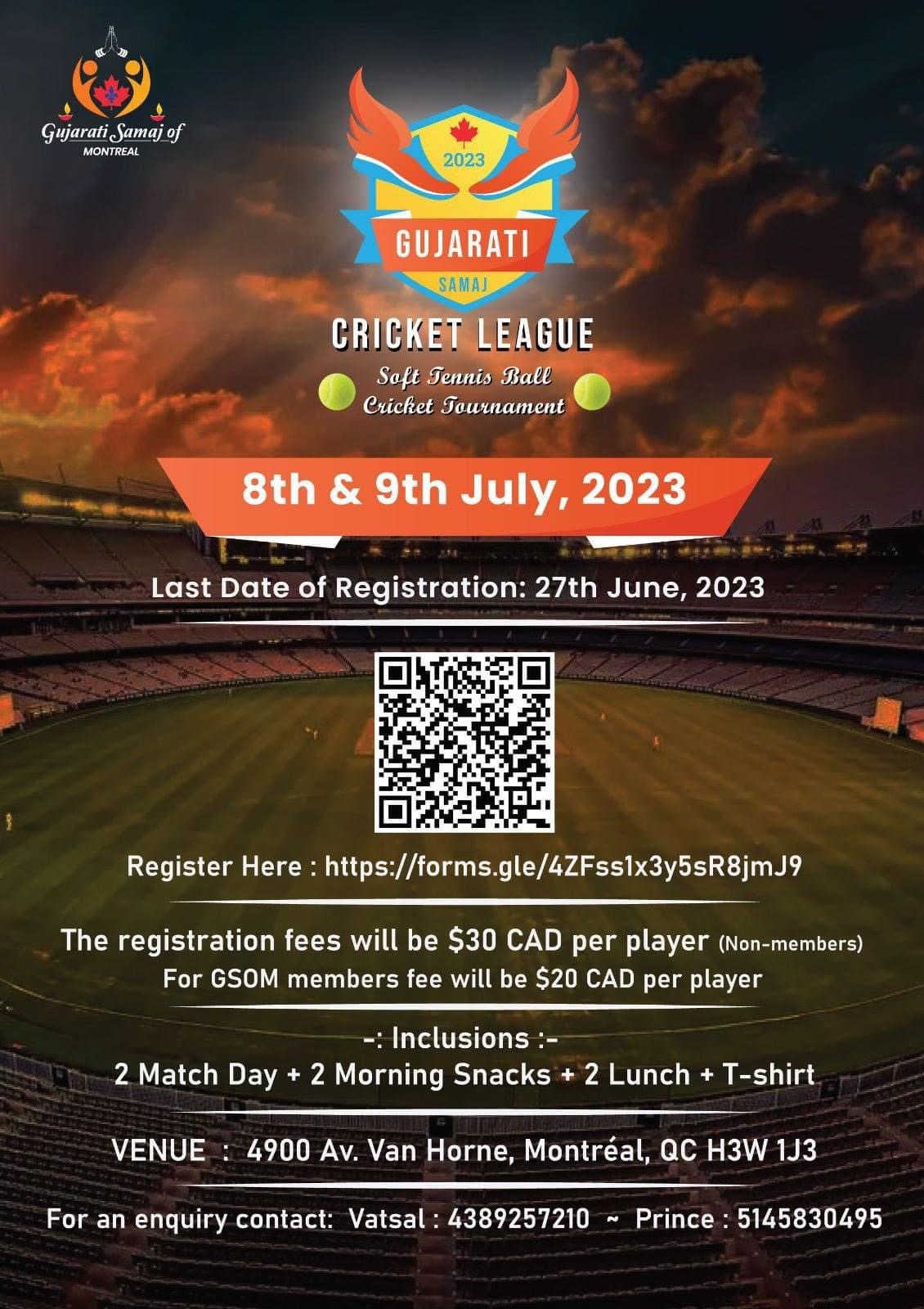 Tournament Dates
Day 1: Saturday, July 8, 2023
Day 2: Sunday, July 9, 2023
Registration Details
To participate in this exciting event, kindly register before Tuesday, June 27, 2023, as the spots are limited.
Last Date for Registration: Tuesday, June 27, 2023
Registration Fees
$30 CAD per player for non-members
The event promises to offer a complete package of fun and excitement, with the registration fee covering:
Participation in a 2-day Match
Morning snacks and lunch on both days
A commemorative T-shirt to mark your participation in this significant event
Tournament Venue Details
Location: 4900 Av. Van Horne, Montréal, QC H3W 1J3
The venue for the tournament is the spacious ground at 4900 Av. Van Horne, Montréal, QC H3W 1J3. Should you have any queries or need any assistance, feel free to reach out to Vatsal at 4389257210 or Prince at 5145830495.
For more information about the Gujarati Samaj of Montreal and our initiatives,
please visit our website: https://gujaratisamajmontreal.com
The Gujarati Samaj Cricket League is a wonderful opportunity to engage in friendly competition, connect with fellow community members, and create lasting memories. We look forward to your active participation in making this event a grand success. See you on the field!