As summer blooms, Montreal is set to host the 42nd annual Ratha Yatra, a joyous celebration of traditional Indian culture. The festival will be held at Parc Jeanne-Mance on July 8th and 9th, 2023​ By Festival of India.
This grand event, now in its 42nd year, reflects the diverse and vibrant heritage of India, bringing an authentic slice of the subcontinent to Canada. Celebrating traditional customs, music, dance, and cuisine, the Festival of India is a testament to the multicultural fabric of Montreal. This article delves into the captivating offerings of the Ratha Yatra, providing a glimpse into the rich traditions and intriguing rituals that make this festival a cherished event in the city's cultural calendar.
The Ratha-Yatra parade was first brought to Western countries in 1968 by A.C. Bhaktivedanta Swami Prabhupada, the founder of ISKCON (International Society for Krishna Consciousness). Since 1978, this grand parade has been an integral part of Montreal's cultural landscape, forming a key component of the 'Festival of India'. This event, organized through collaborative efforts, seeks to unify diverse South Asian communities, artists, and cultural organizations. By doing so, it brings an authentic taste of multi-ethnic, multi-cultural India to the city, reinforcing Montreal's rich cultural diversity.
Ratha Yatra Parade
The celebration will open with a majestic Chariot parade (Ratha-yatra) that will journey down St-Laurent, starting from the corner of Milton and ending at Jeanne-Mance Park. Central to the parade will be a 40-foot float, which will be joyfully pulled by participants amidst singing, dancing, and a lively carnival atmosphere.
Date : July 8th, 2023
Time : Noon
Participation: Attendees, including spectators, are heartily invited to participate in the singing, dancing, and cart-pulling activities.
Website: https://festivaldelinde.ca/en/
Route
The Ratha-yatra parade route in Montreal unfolds as follows:
The procession begins at Saint-Laurent Boulevard (at the corner of Milton, near Sherbrooke) at 12:00 PM.
The grand parade majestically cruises down Saint-Laurent Boulevard.
The final destination of the parade is Jeanne-Mance Park (corner of du Parc and du Mont-Royal Avenues).
The parade's arrival at Jeanne-Mance Park kicks off the festival's park activities around 1:30 PM.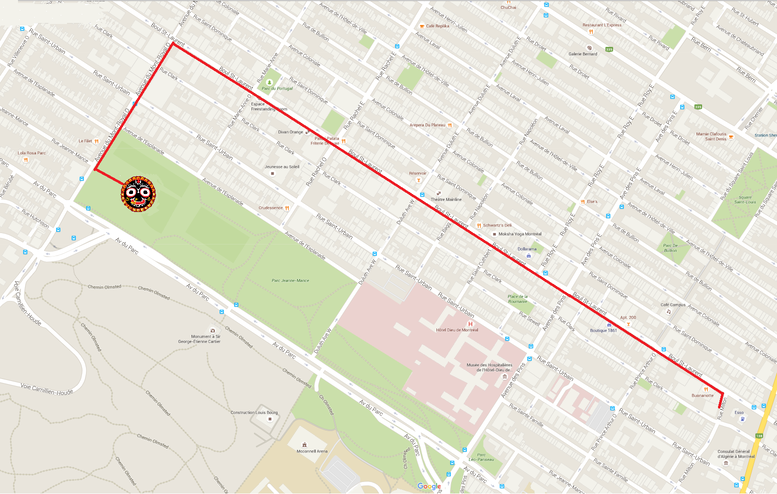 Festival History and Indian Origins
The term "Ratha Yatra" is derived from Sanskrit and is an important festival in Hindu tradition. The word "Ratha" translates to "chariot" or "carriage," and "Yatra" means "journey" or "procession." So, "Ratha Yatra" essentially means "chariot journey" or "chariot procession."
Originating from the Indian subcontinent, this festival is deeply rooted in Indian history and religious traditions. The Ratha-Yatra, or Chariot Festival, has been celebrated for centuries in Puri, India, and stands as a significant hallmark of India's cultural heritage. The festival's journey from India to Montreal symbolizes the spread of Indian culture globally, enhancing the multicultural tapestry of the city.
Jeanne-Mance Park Festival Montreal
Once the parade concludes on St-Laurent Boulevard, the festivities of the Festival of India persist throughout the weekend at Jeanne-Mance Park, located at the corner of Parc Avenue and Mont-Royal Avenue. Participants are treated to a complimentary vegetarian meal, immersing them in the culinary delights of Indian cuisine.
These include enjoying diverse music, dance, and drama performances, exploring a South Asian bazaar, learning through exhibits on ancient culture and heritage, and partaking in traditional face-painting and henna artistry. Additionally, the festival offers a fun-filled children's area, continuous yoga and dance workshops, and a question-and-answer section, promising an enriching experience for all attendees.
Activities
The park brims with a multitude of family-friendly activities that cater to all ages and interests.
Acclaimed performances featuring music, dance, and drama, showcasing the artistic prowess and cultural richness of India.
A South Asian bazaar, where a range of unique items and artifacts are available, adding a vibrant marketplace vibe to the festival.
Engaging exhibits presenting ancient culture and heritage, offering a deeper understanding of India's rich history.
Traditional face-painting and henna, adding a touch of Indian aesthetics to the festivities.
A children's area filled with fun and educational activities, ensuring our young attendees have an equally enriching experience.
Continuous yoga and dance workshops, allowing participants to engage with these integral aspects of Indian culture.
A dedicated section for questions and answers, where curious minds can learn more about Indian traditions and practices.
The celebration at Jeanne-Mance Park offers a comprehensive and engaging exploration of Indian culture, ensuring an unforgettable experience for all.
The Festival of India in Montreal is a wonderful opportunity to immerse oneself in the vibrant and rich traditions of Indian culture. With its grand Ratha-yatra parade and a host of activities at Jeanne-Mance Park, this festival brings together a community of diverse backgrounds to celebrate and appreciate the cultural wealth of India right in the heart of Montreal. Whether you are of Indian descent or simply fascinated by the country's heritage, the Festival of India offers a unique and memorable experience for everyone.