Unsurprisingly Indian grocery stores are in every corner of Montreal. Indian people are living in most of the areas in the city. With raising Indian population in Montreal, it's essential to have them in most part of the city. Montreal has several Indian groceries stores present day. Let's discover Best Indian grocery stores in Montreal.
Montreal is a great city for food lovers. Not only is there a huge variety of cuisines to choose from, but the quality of the food is usually quite good as well. This is especially true when it comes to Indian food. There are dozens of Indian restaurants in Montreal, but if you're looking to cook your own Indian food at home, you'll need to go to an Indian grocery store. Here are three of the best Indian grocery stores in Montreal.
We've gathered all the information of best Indian grocery stores around Montreal. Regarding their quality of items, range of Indian grocery items, rates, availability and customer satisfaction. The top Indian grocery stores are as below:
Best Indian Grocery Stores in Montreal
Marche Lavaniya
Marche Victoria Orientale Regd
Tharsini Super Market
Dhillon Brothers Grocery
Marche Bhane
Marche Chauhan Brothers
Marche Desi Mandi
Marche Om India
Marche Al Mizan
Marche Patel
1. Marche Lavaniya :
Marche Lavaniya is best Indian grocery stores if you are living around Cote Des Neiges area, Notre Dame De Grace, Snowdown, Plamondon or nearby these areas. The store is located on main street cote des neighs, almost in the centre of CDN area.
This store offered various kinds of Indian products including all the famous Indian brands for grocery, Indian sweets, Indian dairy products, Snacks (Real, Balaji, Haldiram, Ashoka). There are many frozen products and instant cook Indian food is available.
2. Marche Victoria Orientale Regd :
Marche Victoria is one of the oldest Indian grocery store in Montreal. Nearest option for Indian people living in Plamondon, Cote Saint Katherine and nearby. Located in Plamondon area's core on the Victoria Street. This grocery store has all authentic items and best place to find all the Indian vegetables. Wide range of Indian spices, dairy products, frozen food and fruits. This place has best price range respectively rest of Indian grocery stores in Montreal.
3. Tharsini Super Market :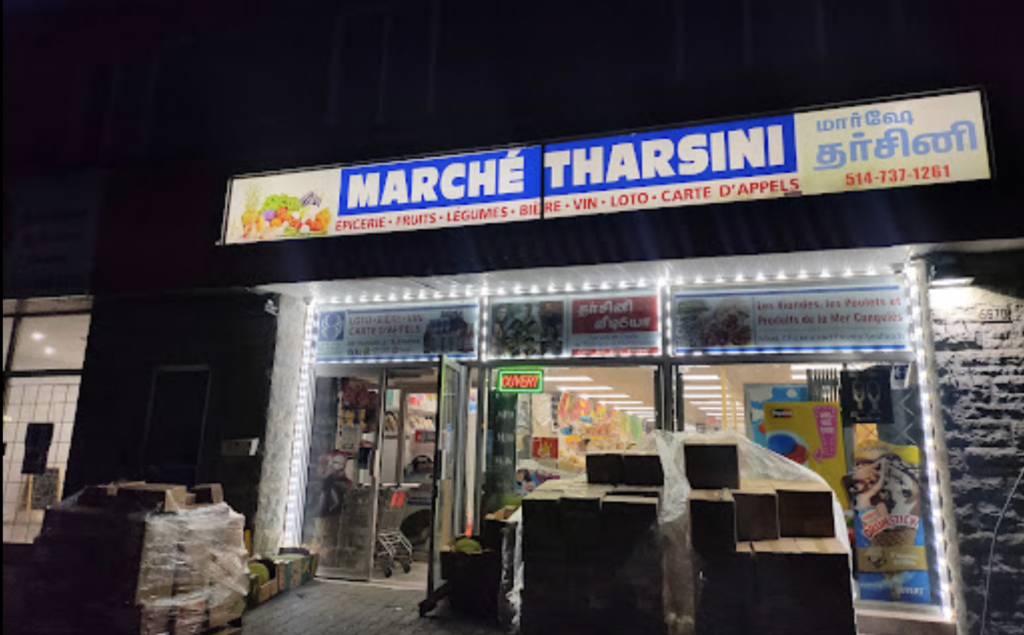 Tharsini Super Market is mainly a south Indian style grocery store which is located in between Snowdown and Plamondon area. Various kind of south Indian spices, fish products and south Indian snacks are their speciality. Store also have all kind of Indian utensils/tools. This is best place for people living around Westmount, Snowdown, Cote Saint Luc and Decarie Boulevard.
4. Dhillon Brothers Grocery:
Dhillon Brother is mainly a Punjabi style Indian grocery store located on Jean Talon Street. You can find most of Punjabi sweets and Punjabi grocery item at this place. This store also has option to buy liquor as well. If you are looking for Indian vegetables and Punjabi snack in particular, It is go to place for people living nearby Jean Talon Street.
5. Marche Bhane :
Marche Bhane is one of the well-known and old Indian grocery store in Montreal. It also has all the kind of Indian grocery items included in their inventory. Indian spices, Indian sweets, fresh vegetables, fruits and all the kinds of meat are available there. Indian people living in Parc Extension nearby areas choose are common customers of the store.
6. Marche Chauhan Brothers: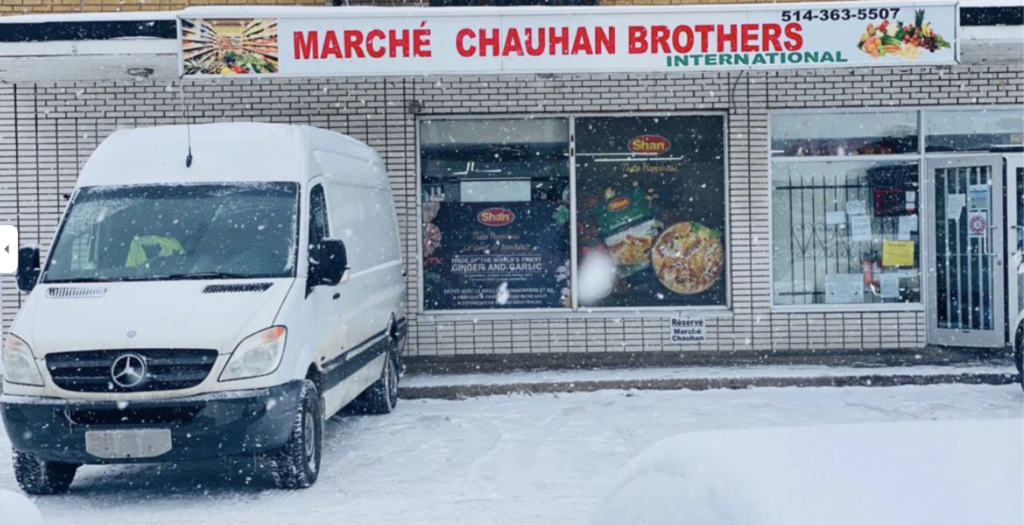 Marche Chuahan Brother is the main Inidan grocery store for Indian people living in LaSalle and Lachine area of Montreal. This place has all the kind of spices, sweets, vegetables, fruits, snacks and meats to buy at affordable rate.
7. Marche Desi Mandi:
Marche Desi Mandi is in Acadie area on the main street. This grocery store has all the kind of essential things which are required in kitchen like spices, sweets, grains, breads, vegetables, fruit but It also has the best option for meat lovers. You can find all the kind of raw meat to buy and cook at home like chicken, fish, sea food, goat meat and beef as well. People living nearby Acadie area are the daily customers of the store.
8. Marche Om India:
Marche Om India is in Pointe Claire area of Montreal, which is bit far from greater Montreal area. Therefore, Marche Om India is one of the best Indian grocery stores for people living near DDO, Pointe Claire and Dorval. This is mainly Gujarati grocery store but offers all the kind of Indian grocery items at affordable price.
9. Marche Al Mizan :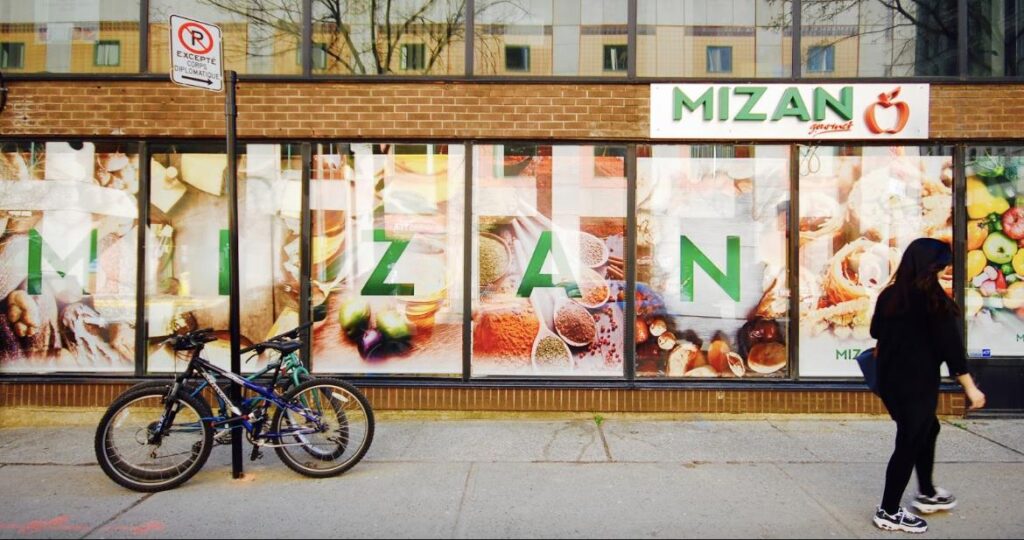 Marche Al Mizan is basically Arabic – Indian grocery store in downtown, Montreal. This store is go to place for people living in downtown. It has all the necessary items at slightly higher rate than rest of the grocery store due to it is located in downtown. Spices, Vegetables, Grains, Breads, frozen food, snacks are the best-selling items of this place.
10. Marche Patel :
Marche Patel is comparatively smaller grocery store. Only because of stores location, we've included this Indian grocery store in list. It is located of Chanabel Street. People living nearby this area have limited options of Indian grocery store and Marche Patel is the best option for them to buy Indian grocery items.